Tips For Showing Your Horse This Spring and Summer
Everything you need to know to prepare you and your horse for show season.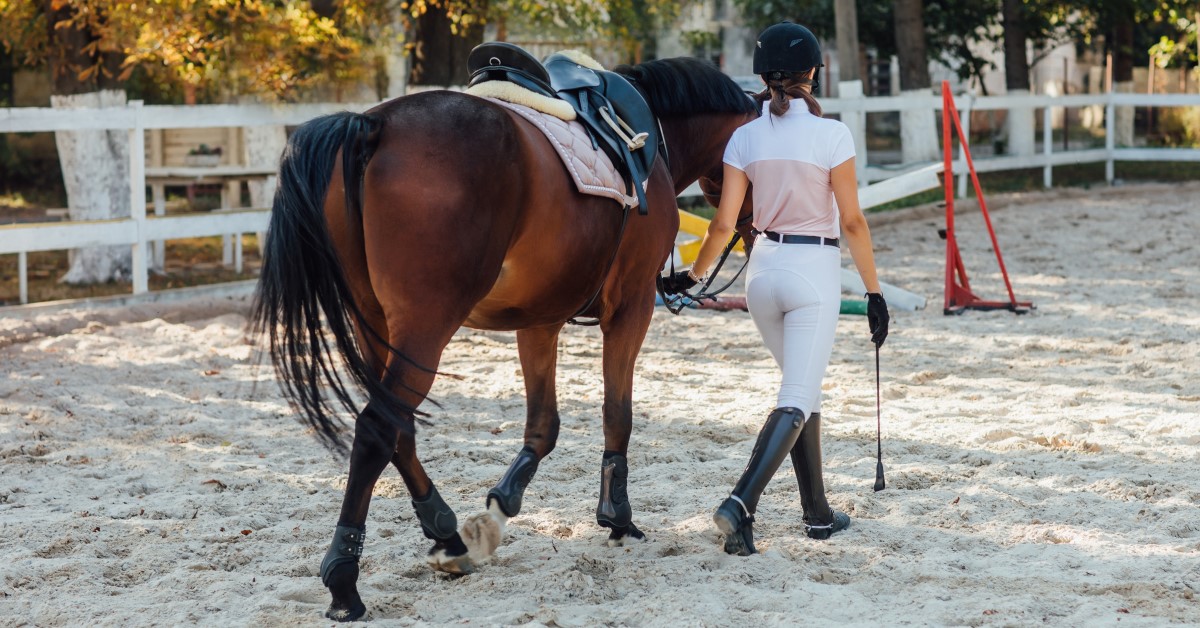 The snow is flying, and the wind is howling. It's hard to think about horse show season while we are still in the throes of winter. However, it is indeed the time to start thinking about all the myriad details necessary to ensure you and your horse have a safe, fun, and successful show season. So, what should you be thinking about now? Many, many things. Read on.
What is Your Discipline?
The first place to start is to think about what disciplines you have focused on with your horse because everything else about your horse show planning begins here. Some horse shows focus exclusively on a single discipline, while others have classes in multiple riding styles. A few of the possibilities for shows and classes include the following:
Western Pleasure
Dressage
Reining
Jumping
English Pleasure
Hunter/Jumper
Equitation
Halter
Selecting The Best Shows for You and Your Horse
You are probably working with a trainer who can help you select shows, but your best bet is to start by going to a few local, "fun" shows before you set out for the big leagues. Think of these shows as training experiences. These types of shows have a relaxed atmosphere and are much less stressful for riders and horses. Also, the judges at these shows are usually quite helpful in telling you how you can improve the next time around.
When you get to the show, you'll need to select the classes you think are the best fit for you and your horse. Again, this is something your trainer can help you with. Try not to enter classes that are way above your current riding level to avoid getting discouraged.
When it is time for the big leagues, fellow riders in your discipline, as well as your trainer, can give you advice on what shows to look at. Some of these shows will be out of your immediate area, so transportation for you and your horse will be a big part of this equation.
Study the Rules
As part of your preparation efforts, especially for the bigger shows, be sure to study the prize list, rule book, and entry forms for the shows you want to go to. If you don't receive this information in the mail, look for it online. Once you have it, determine what your riding strategy will be. You will have time before the show to practice and hone your skills.
Prepare Your Horse
You can do a lot of pre-show grooming to get your horse ready. If show protocol is for horse's manes to be braided, you'll need to do this the night before. Talk to your vet a week before the show and get their take on giving your horse electrolytes for extra hydrating precautions.
Prepare Yourself
To get the best results for yourself, get in shape! Winter has a way of softening muscles, so a tune-up is good for you, as well as your horse. Look for an online or local yoga class. Yoga is a wonderful way to strengthen your muscles, improve your breathing, and increase your ability to concentrate. You might also go to the gym to use weights to improve your fitness even more.
Planning Your Clothes
The discipline you ride in will determine what clothes you should wear to the show. A western pleasure outfit will be very different from a hunter jumper one. Different classes in the same show may have subtle outfit differences, so get some advice if you are unsure. If you need to purchase your outfit or parts of it, and there is no local tack shop, then be sure to order what you need in plenty of time.
Required Documentation
To bring your horse to any show, you will need proof that he has had a Coggins test. You may also need his breed registration papers, proof of insurance, and of course, the show registration paperwork and fees. Also, make any hotel reservations you may need if the show is a distance from home.
Let the Show Begin!
On show day, fact number one: you will be nervous. Fact number 2: your horse may also be nervous. Try to arrive early to the show grounds so you can show your horse around and get him set up for the day with hay, water, and fresh bedding. Groom your horse, so he shines! Get yourself situated as well by setting out your saddle and tack.
Before the show begins, you will probably have some schooling time where you can work off some of your and your horse's anxiety. It would be best if you took advantage of this allotted time.
When it's time for your class, brush yourself off and make sure you look flawless. Sit tall, breathe deeply, and enter the ring with confidence. Remember that the judges will be looking at you as soon as you enter the ring.
Checklists
We've compiled a few lists to help you get organized for your days before and in the show ring.
Paperwork
Copy of show registration papers
Coggins test certificate
Map to show location
Gelding proof papers
Vet phone number
Certificate of ownership of the horse
Test booklet (dressage)
Tack
Bridle
Extra reins
Saddle(s)
Saddle pads
Extra girth/cinch
Horse cooler or blanket
Lunge line and whip
Fly mask
Tack Details
Saddle soap or leather cleaner
Sponge
Washcloth and towels
Paper towels
Horse Care
Grooming Necessities
Curry comb
Sponges
Brushes
Sweat scraper
Brush for mane and tail
Towels
Hoof picks
Fly spray
Clippers
Necessities for You
Jeans (Western) or breeches (English)
Western shirt (dressy) or English show shirt
Helmet or hat
Snacks
Boots
Chairs
Belt (Western)
Socks under boots
Things to keep hair in place
Gloves
Boot polish Sunscreen
Mirror
First Aid Kit
Cotton warps
Cotton balls
Scissors
Betadine
Triple antibiotic ointment
Vet wrap
Band-Aids
Aspirin
Elastic adhesive tape
Insect repellant
Trash bag
Wet wipes
So, on the next stormy or snowy winter day, dream of showtime and think about how you and your horse are going to have a stand-out time when the two of you step high in the show ring this spring and summer.