How to Choose the Ideal Pet Door for Your Home
Learn what you should know before choosing the ideal pet door for your home.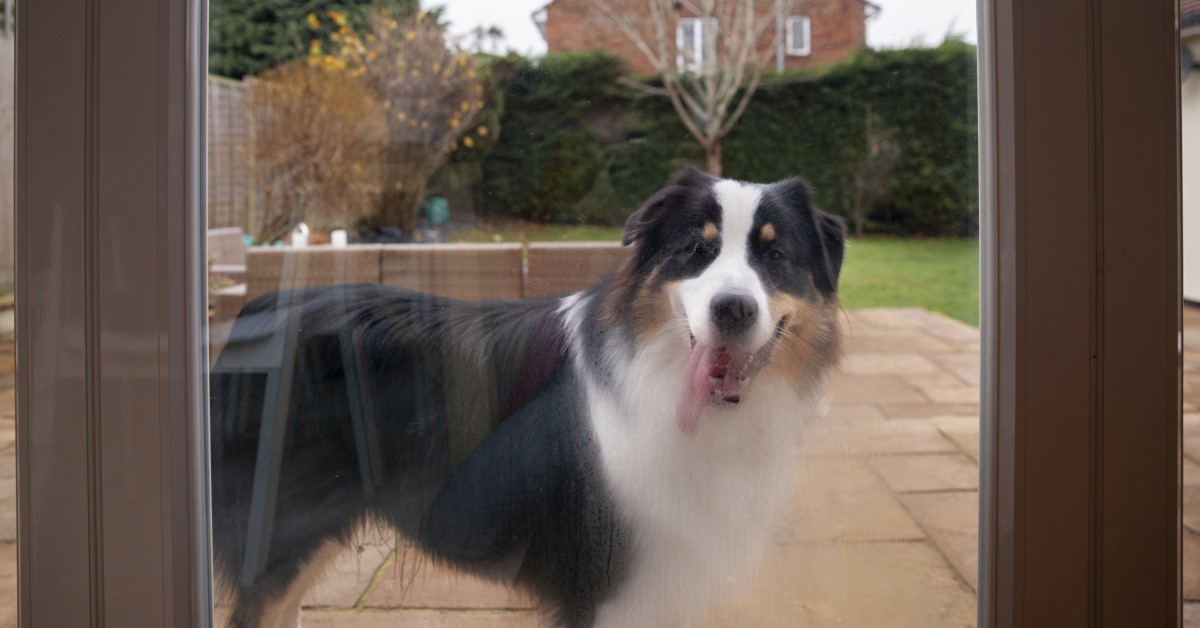 Restless pets can lead to exhausted pet owners. If your dog or cat wants to go out, chances are that it will want to come back in again and again -- and this back-and-forth activity may go on at all hours of the day and night.
A pet door lets your four-legged family member move in and out of the house without your assistance. However, once you start shopping around, you may find yourself confused or overwhelmed by the many options on the market. Let's look at some key considerations that will help you select the perfect pet door for your home.
Choosing the Best Location for Your Pet Door
You might not realize that pet doors come in a variety of forms and can be installed in many different areas of your home, including doors, walls, windows, sliding glass doors, and patio doors.
Door-Mounted Flap Pet Doors
Most people think of traditional door-mounted flaps when they envision pet doors. These simple pet doors are convenient, easy to install, and affordable. A plastic flap covers a rectangular hole toward the bottom of the door. Your cat or dog simply pushes its way through the flap, which then closes behind it.
The In Wall Dog Door, Walk-Throughs, and Passageways
You can also mount a pet door in a wall instead of a door. This option makes sense if your pet needs to move from the main part of the house to the garage - especially on freezing cold nights when outdoor visits become inhospitable.
Another kind of wall-mounted pet door requires the construction of a short, insulated passageway leading to the outside world. However, you'll need to knock through your wall to create this kind of pet door, meaning an experienced contractor must make sure the door doesn't ruin the wall's insulation, plumbing, or electrical wiring.
Pet Doors for Sliding Glass Doors and Patios
If you want to add a pet door to a patio door or other sliding glass door, look for a glass insert that matches it in height. This insert will typically extend just a little wider than the included pet door, fitting in the existing track so your sliding glass door can open and close normally.
Pet Doors for Windows
If you don't want to alter your door or wall, consider installing a pet door that works with your windows or sliding glass doors. The addition of a pet door to a window may prove as simple as cutting out one of the existing panels and replacing it with a plastic flap. You can also purchase a window unit that comes equipped with a pet door.
Simple Dog Door Versus a Smart Dog Door
Many traditional pet doors require nothing more than a little forward motion from a dog or cat to function. While this low-tech system works well, it may actually work a little too well if you own multiple pets, because it doesn't discriminate against which pets can use it and which can't. It can also permit other small animals (or even alligators!) to enter from outdoors at will.
If you'd like more control over who can use your pet door, consider purchasing an electronic pet door. A smart door for dogs and cats will remain locked until it receives a signal from a smartphone app or even from a specific pet's internal microchip. If you just want the ability to secure the door occasionally and you'd like to save some money, choose a traditional pet door that includes a manual locking mechanism.
Size Considerations for Your Pet Door
Whatever type of pet door you choose, you must order one in the right size for your pet or pets. A too-small pet door can cause animals to get stuck or injure themselves when they try to use it. Measure your pet from shoulder to shoulder and from floor to head so you'll know what size of door to purchase. If your pet requires a door so large that a burglar might squeeze through it, make sure to add one of the locking options noted above.
The Noise Factor
Some pet owners might like hearing when their cats or dogs enter and exit through pet doors, while others find the noise of the flap hitting the door or window unit annoying. If you count yourself among the latter group, look for a pet door that has foam or other noise-dampening materials around the rim of the flap or opening. A lighter flap will make less noise than a heavier one. If you go electronic, choose a model with a silent sensor.
Prepare Your Home as Well as Your Pet
As a final note, be sure to prepare both your home and your pet for the installation of whatever pet door you finally select. Installing a tall fence around your yard will keep your pet from running away, as well as prevent unwanted guests from threatening your best friend's well being. Remove sharp objects, pest infestations, and other potential problems from outdoor living spaces before you install your pet door. Take the time to introduce your dog or cat to their new pet door, using treats and other incentives to encourage your pet to use it.
Both you and your pet can benefit immensely from the addition of a pet door to your home. Now that you know what features to consider, look at plenty of models and consult your local handyman, glazier, or other home improvement specialist for additional suggestions.
Ready to start saving money on pet wellness care?
Then take a look at Mint Wellness, the pet wellness plan that provides fast reimbursement on routine pet care. Save on vaccinations, wellness exams, preventatives, dental, and more!
Learn More