Does My Pet Need Prescription Pet Food?
Veterinarians may recommend prescription pet food to help treat or manage certain medical conditions or help fill nutritional gaps.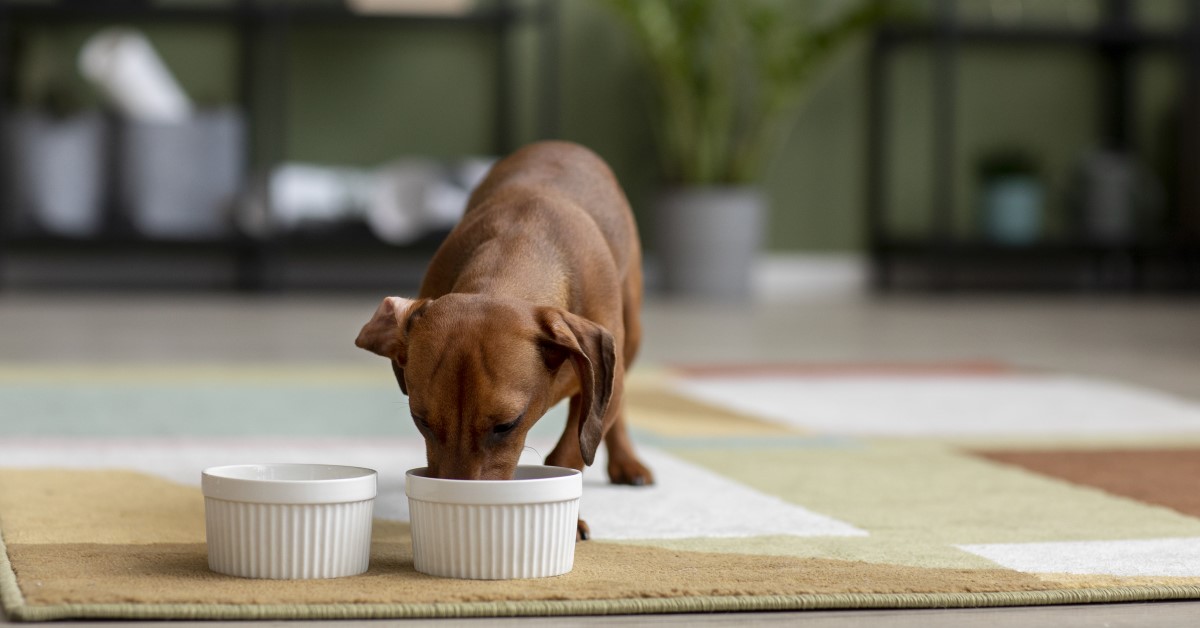 Prescription pet food, also known as therapeutic pet food or veterinary diets, is specifically formulated to meet the unique health needs of your pet. As the name implies, prescription pet food requires a prescription from a veterinarian. While any pet can benefit from prescription pet food, these specialized formulas are usually recommended for cats or dogs suffering from particular medical conditions. Due to the specialized nature of prescription pet food, it is often more costly than over-the-counter (OTC) pet food, but may be covered by some pet insurance policies.
What Is Prescription Pet Food?
Prescription pet food has been around for more than 30 years and is often touted as being a healthier option than normal pet food. However, these specialized diets are not usually recommended for healthy dogs and cats. Instead, your vet may recommend a prescription dog or cat food if your pet has developed an illness or disease that requires a specialized diet.
Despite popular belief, prescription pet food does not contain any type of medication. Instead, it contains high-quality active ingredients designed to improve pet wellness. The biggest difference between prescription pet food and OTC options is that prescription diets are only available from veterinarians. In addition, prescription pet food manufacturers are closely regulated by the FDA's Center for Veterinary Medicine.
What Conditions Does Prescription Pet Food Treat?
Although they cannot be used to treat all illnesses or medical conditions, both prescription dog food and prescription cat food can help manage many common ailments, such as:
Allergies
Kidney issues
Gastrointestinal problems
Skin issues
Post-surgery
Rental issues
Cancer
Arthritis
Diabetes
Heart disease
Weight management
Is Prescription Pet Food Really Necessary?
One of the first questions that many pet owners ask when faced with the high cost of prescription pet food is if it's really necessary. The short answer is it depends. Prescription dog food is generally recommended in situations where a change in diet could significantly improve a dog's health and well-being. For example, a dog that needs to lose a lot of weight could benefit from a prescription diet. This holds true for prescription cat food as well.
Prescription diets are also recommended in other scenarios, such as when dogs have bladder stones. Certain types of bladder stones can be safely dissolved with prescription dog food. However, a prescription diet alone is not always sufficient and a pet may require surgery or other treatments later on. Prescription foods for dogs and cats can also help with kidney disease, GI problems, and food sensitivities.
Pets with health conditions such as arthritis can also benefit from the use of prescription pet foods. When enriched with omega-3 fatty acids, chondroitin sulfate, glucosamine, and antioxidants, they can help promote joint health and reduce inflammation. Veterinary diets may also be slightly calorie-restricted which helps treat obesity in cats and dogs and avoid excess stress on their joints.
What are Some Alternatives to Prescription Pet Food?
While prescription pet food can be advantageous in certain situations, it is not the only option. Some alternatives to prescription pet foods to include:
Raw Diet
Many pets can benefit from a raw diet. A raw diet includes foods like meat, fruit, and raw eggs. A raw diet can help promote cleaner teeth, healthier skin, and increased energy. However, there are some things to consider before transitioning to a raw diet. Although a raw diet is recommended by many vets, it is not yet supported by the American Veterinary Medical Association (AVMA), primarily due to the fact that undercooked meats can contain harmful bacteria that put your pet's health at risk.
OTC Options
If you compare the label on prescription pet food to that of over-the-counter options, you'll likely find many similarities. Depending on your pet's health and the specific condition being treated, some pet owners will find that switching to a higher-quality normal pet food is sufficient and a prescription food is not necessary. It is important to thoroughly research commercial foods before making a decision.
Limited Diet
A limited pet food diet can be beneficial in certain situations, especially when used temporarily as a pet recovers from an illness or disease. Limited diets generally contain only one carbohydrate and one protein. For example, a limited diet may contain sweet potatoes and lamb as the only main ingredients. A limited diet may be recommended as a type of elimination diet, such as when a cat or dog develops an unknown food allergy.
Switching to a Prescription Pet Food for Your Dog or Cat
If your cat or dog is suffering from a chronic illness or disease, it is important to consider all treatment options. Prescription dog and cat foods that are specifically formulated to support your pet's health may be highly beneficial during recovery. Your vet can help you weigh the pros and cons of transitioning to a prescription pet food, and provide advice on the best options for your pet.
Ready to start saving money on pet wellness care?
Then take a look at Mint Wellness, the pet wellness plan that provides fast reimbursement on routine pet care. Save on vaccinations, wellness exams, preventatives, dental, and more!
Learn More