DIY: Pumpkin Dog Treats and Carving Fun!
Without a doubt, pumpkin carving and making dog pumpkin treats can be a fun family affair for Halloween.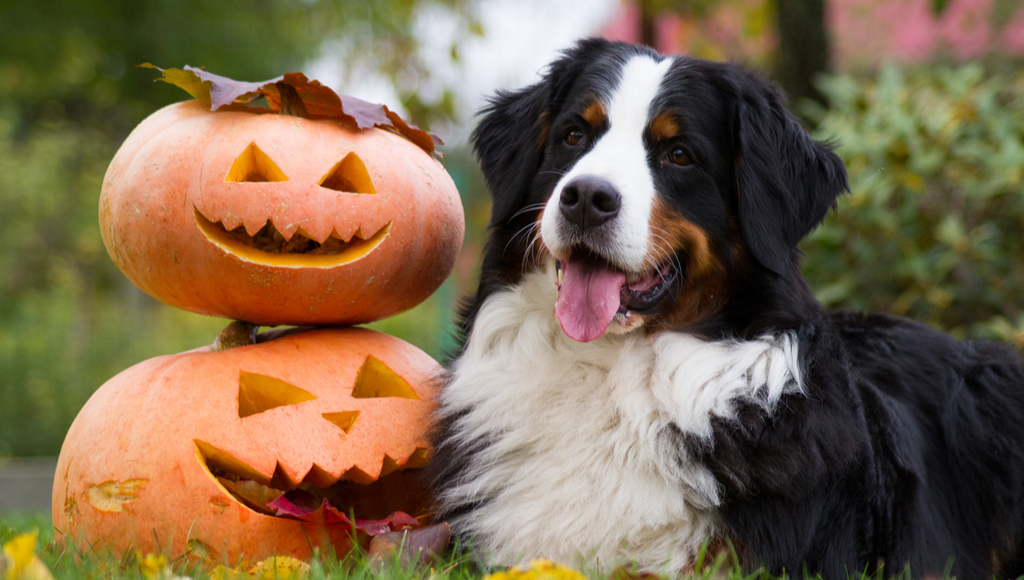 From carving a piece of art to baking a yummy treat, there's plenty of things to do with pumpkins this Halloween. And you don't have to be an artist or a master baker either. It's easy.
Today, pumpkin carving is an art form, and you can create a masterpiece with today's tools and technology. You can even carve a pumpkin to look like your pet. The secret to doing this is the professional carving tools and form of stencils that you use. Using the right tools is the secret to success, and you can find what you need at a discount store or a party supply store. Go with a fancier kit that has pumpkin surface cutters to allow for making the image three dimensional. Here's how to do it.
Get the Perfect Pumpkin for Your Masterpiece
Choosing a good pumpkin is important for your project. It should be in good shape with no soft spots or bruises. A field-grown one is best. Likely, your area will have a pumpkin farm that's not too far away. Plus, pumpkin picking is fun for the whole family. Avoid small pumpkins, as they are tough to carve. Be sure to choose a pumpkin that's big enough for your stencil. A smooth pumpkin is easier to carve. Be sure the pumpkin sits up straight for a good display of your finished project. Another option is a Funkin pumpkin. These pumpkins are made of polyurethane foam and have a glow when lit. Plus, they come in a variety of colors, and you'll be able to use it for years.
Get the Perfect Stencil for Your Pet
There are plenty of free pumpkin stencils that you print out from different breeds. For example, you can download them from Better Homes and Gardens. Masterpiece Pumpkins has great stencils if you're willing to invest a little money in the project. Their carving experts can create a custom pattern from your pet's picture. You can make a truly memorable pumpkin in the image of your pet.
You can also opt to make your own stencil with a photo of your pet. Use either Photoshop or Gimp. Be sure to manipulate the photo, so the dark areas are attached. To manipulate the image, convert the photo to grayscale. Then, boost the contrast. It's a lot easier than you think!
Needed Tools and Directions to Get it Done
You'll need a large pumpkin, pumpkin poker, carving knives, and a pumpkin scraper. Some folks use an ice cream scooper for the scraper. Carve out the top of the pumpkin and remove the insides and seeds. Another option is to cut a rectangular hole in the back of the pumpkin to scoop out the pulp. Print out the pumpkin stencil and pin it onto the pumpkin using the push pins. Then, use poker to poke the grey areas. Be sure to start carving along the dotted line. Use plenty of newspapers, as this is a messy project. Lastly, put a candle inside the pumpkin, and watch your pumpkin come to life!
You can find the specific tools you need to carve a pumpkin at your local craft store or on sites like Amazon. You may even want to consider buying a whole pumpkin carving kit. It's up to you.
Turning Pumpkin Leftovers Into Yummy Dog Treats
Dogs go absolutely crazy for pumpkin treats, and pumpkin puree is a great source of fiber, potassium, and vitamin A for your dog. It also prevents constipation and settles the stomach. Once you make the puree, you can put a couple of spoonfuls right on top of their dog food. It's easy to make pumpkin puree. Just use the scooped-out flesh of the pumpkin and mash it in a food processor. Cook in a pan over medium heat to evaporate the moisture. Then, let it cool and put it into containers in the freezer. Just defrost it when you want to use it right in the microwave.
Here are a few easy recipes for some yummy pumpkin dog treats:
Woofies Dog Treats
The ingredients for this treat recipe include 2 ½ cups of whole wheat flour, 1 cup of pumpkin puree, 2 eggs, 2 tablespoons of peanut butter and ¾ teaspoon of ground cinnamon. Preheat the oven to 350 degrees. While the oven is warming up, mix together all of the ingredients. Use some water to make the dough easy to work with. Roll the dough into ½ inch roll and then cut into ½ pieces. Bake it in the oven for approximately 40 minutes.
Pumpkin Treats with Honey, Clover, and Cinnamon
Use 2 cups of oat flour, 3 eggs, ¾ cup of honey, 2 teaspoons baking powder, 15 ounces of pumpkin puree and ¼ cup of canola oil. Preheat the oven to 350 degrees and mix the ingredients in a bow. Line the pan with cupcake papers and spoon the mixture into each cup. Bake for 15 minutes. This recipe yields 12 regular muffins.
Pumpkin Dog Biscuits
Use 2 eggs, ½ cup of pumpkin puree, 2 ½ cups of flour, and a pinch of cinnamon. Preheat the oven to 350 degrees and combine all ingredients. Roll out the dough and use doggie shaped cookie cutters to shape each biscuit. Bake it for about 35 minutes. Cool and store the biscuits in the fridge.
Without a doubt, pumpkin carving and making dog pumpkin treats can be a fun family affair for Halloween. Get everyone to join in the fun. Make it a Halloween to remember and be sure to snap plenty of pictures.
Ready to start saving money on pet wellness care?
Then take a look at Mint Wellness, the pet wellness plan that provides fast reimbursement on routine pet care. Save on vaccinations, wellness exams, preventatives, dental, and more!
Learn More